These are just a few of the products I've purchased recently that I wanted to share:
First up is the Vitamin C Energizing Face Spritz from the Body Shop, which claims to 'revive the appearance of dull-looking skin'. I find that this spray has a really awful smell; it's quite citrus-y, which I hate, but not enough to put me off using it. I usually use it in the morning, after I've washed my face, and before I apply moisturiser. I have really dry skin, especially during the winter, so this gives it a little extra hydration.
I haven't noticed any dramatic changes but your skin can never be too hydrated, right?
Vitamin C Energizing Face Spritz- £10 from The Body Shop
Next is the Cath Kidson Geranium hand cream, which is from a set of 3. I actually pinched this from my mum, who is the queen of hand cream- she literally has so many I didn't think she would mind! This just smells really fresh and I like to take it everywhere as I'm pretty obsessive with hand-washing and using antibacterial gel, which can really dry out the skin on your hands. Cute packaging too.
Cath Kidson Flora Geranium Hand Cream Set of 3- £10 from House of Fraser
Then we have the NYX Born to Glow Liquid Illuminator in Gleam which just arrived like 2 days ago. I have tried loads of highlighting powders but as my skin is pretty dry they tend to look to powder-y and just dry my skin out more. I have learned my lesson from buying products online now because I didn't really think this one through- I thought I would be able to use this all over but it's such a pinky/peach colour that it's actually more like a cream blush with a sheen to it.
That said, it added a beautiful colour to my cheekbones and I'm very pleased with it- I just won't be able to use it exactly as I had planned (ie to highlight nose/forehead etc).
NYX Born to Glow Liquid Illuminator in Gleam- £7 from NYX Cosmetics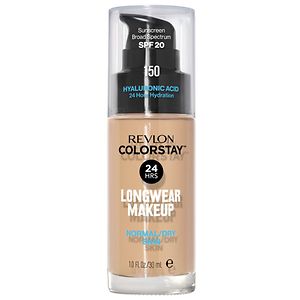 At last I have got my hands on Revlon Colourstay and mine is in the shade 150 Buff. I was going to wait til my current foundation runs out but I read amazing reviews on this and didn't want to wait any longer.
The reason I decided to give this a try is because I have been using light-medium coverage foundation for a while and it just isn't for me. My skin isn't bad but I have a lot of redness on my cheeks that I wish would go away. I kind of want to try the Estee Lauder Double Wear but who has the money for that right now? And this is supposedly a great dupe.
I have to say that so far I'm super impressed with this foundation and I've only had it a couple of days. It went on beautifully, stayed on all day and covered all my problem areas.
I usually have a lot of issues finding the right colour for me but Buff is a perfect match. I tend to go for more Ivory shades but they can be a little pink sometimes, which I find just amplifies my redness.
So I read that Buff has yellow-ish undertones which, on fairer girls, can apparently help tone down any red and I definitely think it works.
Because I have dry skin I don't like anything too matte and, although this isn't exactly dewy, it didn't leave me feeling dry or cake-y and, combined with the NYX Illuminator (which I applied before foundation) I actually had quite a nice sheen going on. I will be repurchasing this foundation 100percent.
Revlon Colourstay Makeup for Normal/Dry Skin in 150 Buff- £12.49 from Boots
More NYX! This time the HD Formula Concealer Wand in Yellow. I love this! I need to get all the colours. If you don't know about colour correcting you should deffo Google it because it will really change your life (and your make up). Basically it's using certain colours to correct problem areas on your face.
So this yellow concealer helps cover up the purple bags and discoloration under my eyes. It's a really light colour to be honest so if I'm being lazy and cba to find another concealer I do sometimes use this in other places, such as the sides of my nose, and it works just as well.
It's a really light formula that's not too runny and it's really easy to pat in to the skin. It doesn't crease too much under the eyes and it's got pretty decent staying power.
I love NYX products and I'm currently waiting for their Full Coverage Concealer Pot to arrive and I believe the colour I've ordered is called Glow- it's an orange-y colour anyway. I recently watched Carli Bybel's latest video on youtube about contouring and highlighting, and she used the orange concealer to help cover dark circles and she said it really worked.
NYX Concealer Wand in CW10 Yellow- £6 from NYX Cosmetics
Ok so technically I've had this a couple of weeks but I thought I would throw it in anyway. This is Honey Love by MAC and it is delicious. I have been wearing Myth for like 5 or 6 years (I love a nude lip btw) but I really fancied a change so I made my beautiful sister buy me this one.
I love matte lipsticks so this was always going to be a winner in my eyes, and it's a perfect nude-y brown if you're pale because it's not too red/pink.
I've been mixing this with Myth occasionally and it looks really cute, or with just a bit of lip balm over the top if I'm not feeling matte that day.
I really don't think you can go wrong with MAC lipsticks: I know they're kind of pricey but they're super pigmented, they blend beautifully and they wear for hours. Plus if, like me, you don't like glitter or shimmer, the matte shades are perfect.
MAC Lipstick in Honey Love- £15.50 from MAC Cosmetics
So this is the Wet'n'Wild Beauty Benefits Pressed Powder in Fair and I have another 'basic' beauty confession: I have never used powder in my life! Because of my dry skin I just always assumed it was unnecessary and would only make my skin look drier, but if you want your make up to last it's actually quite important!
The reason I chose this one over any others is simply because it was cheap, I can't lie. I paid probably less than £3. And I have to admit I think it's ok! Not that I have anything to compare it to.
I didn't apply this all over-just in the areas my make up tends to slip off first (chin, nose, forehead, jawline) and I literally used the smallest amount because I didn't want to look completely matte. But I definitely think my make up lasted a lot longer than it usually does: I didn't require any touch-ups! For 3 quid you can't really complain can you?!
Wet'n'Wild Beauty Benefits Pressed Powder in Translucent Fair 21040- from £2.99 on Amazon
Last but not least- my baby, MAC Zoom Lash mascara! I used this years ago and loved it and I'm not really sure why I have never bought it again. But anyways, it's back in my life now! I've read some awful reviews on this mascara and it makes me really sad. I don't use this on it's own and maybe that's where some people go wrong? It's such a thick, gloopy texture that I think if I applied this straight to my natural lashes I would look ridiculous. But what I usually do is apply a couple of coats of a much thinner mascara (eg. Rimmel Woner'full mascara with Argan oil) just to lift and define them a little then, before the coats have dried, chuck a load of Zoom Lash on and I'm good to go!
It's heavily pigmented so I find it gives really great definition but, as I say, it's quite thick so beware of clumping (I keep a spare mascara brush handy to get rid of any clumps).
I wouldn't recommend this is used as your 'primary' mascara but more so as an extra layer if you want a really intense look for a night out maybe.
MAC Zoom Lash - £14.50 from MAC Cosmetics
So that's what I'm loving at the minute. Let me know what products you've been buying and if they're any good- I love trying anything new!
Peace and love xxx